Certified Septic Inspection Dallas Fort Worth
A septic inspection is a process of inspecting the septic tank's condition in your home and clearing any blockages to prevent sewage from backing up into your home's plumbing system. It can also help you identify potential problems before they become more significant and costlier repairs.
Septic system inspections are a part of the regular maintenance that septic systems  require. An inspection is usually done every five years to check the septic tank's health and other parts of the system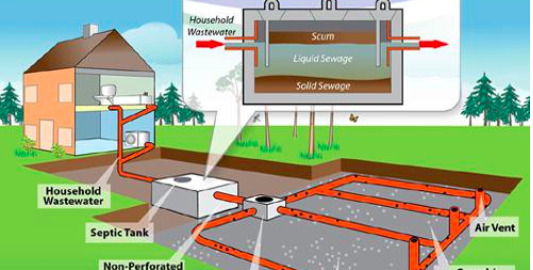 Your septic system inspection will typically include checking for three essential things, the integrity of the tank, the leach field, and the proper functioning of the distribution box. Our certified professionals have specialized knowledge of your septic tank. They can determine if there are any signs of sewage backup, blockages or if there is an issue with how well your septic system is draining.
When Do You Need Testing?
Septic tanks are an essential part of any household, but they need to be tested to ensure they are working properly. These tanks have a life expectancy of 15- 20 years, nevertheless it is important to maintain the tanks to avail a tanks full life. 
If you have a septic system with a leach field that uses a pump before the outlet pipe, you should test your tank every three years. If you have a leach field that uses a vent pipe before the outlet pipe, you should test your tank every five to six years.
If you have a leach field with a vent pipe and a pump before the outlet pipe, you should test your tank once every six to eight years. This does not mean that an inspection should not be done earlier, There are other factors and signs you should be on a lookout for,  here are some signs that your septic tank needs inspection:
 Water accumulating for a short period on your lawn after heavy rain is one thing, but your septic system overflowing and leading to vast pools of water that aren't draining out can indicate a bigger issue. Proceed with a septic inspection if you see this happen.
If you notice slow drainage in your home, ask a professional to determine the cause. Some common causes are water blockages or blocked sewer lines; in such cases too professional help is required.
Strange odor in or around your home.
An overly healthy lawn could signal a failing or problematic septic tank.
Sewer backup is a sure shot sign of septic tank issues.
TexInspec is your one-stop source for all your septic needs.
What Is Included In Our Septic System Inspection?
Many homeowners are not aware that they should have their septic systems inspected timely, so it's not strange if you don't have this knowledge. However, if you're not sure what to look for, there are some standard procedures that a septic system inspector will perform to make sure that it is in good working order. Our standard septic inspection includes:
Locating the septic tank.
Removing the covers to access the septic tank.
Inspecting different parts, including the inlet, outlet baffle, and the partition wall.
Checking the operational level of the sewage.
If required, the location of the pump chamber, CK pump, alarm operation, and float are identified.
Checking for any damage or leaks in the septic system
Checking If The Septic Tank needs inspection.
Checking alarm systems of the aerobic septic tanks. 
Septic tanks are essential to the health of your home. They remove waste products from your home and keep it clean. However, they need to be tested regularly because otherwise they may not function properly.
Septic tank testing is essential for your home if it has a septic field in the basement or if there is a septic system on site. It should also be done when there are changes in the system, such as when water levels change or when new construction occurs near the tank.
Dallas Fort Worth Septic Inspection
We carry out septic home inspections for Fort Worth and Dallas, Texas. At TexInspec, our professional team of septic inspectors will point out potential problems with your septic system with our certified septic inspection services.
Quality septic inspections
TexInspec offers quality septic home inspection services to the Dallas-Fort Worth area. We have been in business since 1985 and have a long list of satisfied customers. Our inspectors are highly trained and certified to ensure your home is safe and sound. So when you need a quality Septic inspection in the Fort Worth area, make sure you choose TexInspec!
Why Choose Our Inspection Services?
Quality, you can trust
With TexInspec, you'll receive the best quality service in Dallas, Fort Worth, TX, and get it at the best price. Our state-of-the-art tests and professional inspectors give you peace of mind knowing that your home is safe.
At TexInspec, we take pride in providing you with the best service for your septic system. We are experts and offer our services to homeowners to ensure their septic system is in the best possible condition. Our services include a home inspection of your septic system and property.
Experts in the business
We have provided our services to homeowners in the Dallas Fort Worth area for over ten years and have left behind a trail of satisfied customers.
Quality service at a fair price
We offer the quality home inspection services in Fort worth at a fair price instead of other septic services companies that may provide inspections with higher rates. We have the necessary knowledge needed for an effective, quality service. We also receive positive feedback from our customers, which is why we are considered one of the best septic services providers in Dallas, Fort Worth.
A complete home inspection of your property's septic system will help you decide whether to invest in a new or existing system. If necessary, we can even offer you technical or general advice on fixing your current system.
EXTENDED OFFICE HOURS
7 DAYS/WEEK
TexInspec is dedicated to providing you "peace of mind" by helping you to understand the condition of your new property 7 days/week.
Call TexInspec to schedule your home inspection